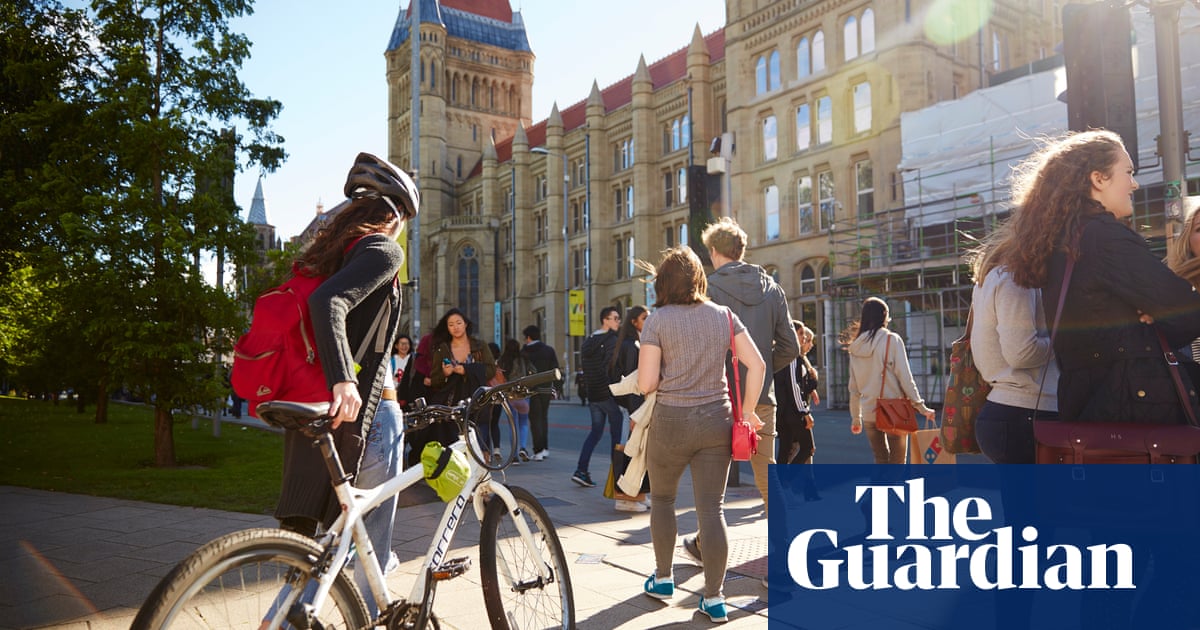 [ad_1]
One in three 18-year-olds applying for university locations in England, Wales and Northern Ireland this year received some form of unconditional offer, figures show, sparking fresh debate about student recruitment and the effects of separating offers from A-level grades.
A report by the Ucas admissions agency revealed that open unconditional offers continued to rise in the year, from 3,000 in 2013 to 68,000, and reached 87,500 when combined with offers that became unconditional when a student made that university their firm choice.
Combining the two forms of unconventional offers means 34% of 18-year-olds applying through Ucas received an offer from one of the five universities they had selected.
The use of unconditional offers is controversial among school leaders, who say they disrupt the efforts of students. But those concerns are only partly borne by the Ucas data, which shows students holding unconditional offers were marginally less likely to achieve their predicted grades than their peers with conditional offers.
The figures show a majority of sixth form applicants missed their predicted A-level grades, regardless of the type of offer held. Applicants with offers conditional on achieving specific grades missed their goals by two grades or more in 56% of cases, compared to 67% for students with unconditional offers.
Damian Hinds, the education secretary, said he found the rise in unconditional offers "disturbing" and warned that universities in England could face regulation by the Office for Students over any unjustified use.
"This report shows that many students can be distracted from the final year of their schooling, and achieve A-grade grades lower than they are able. These are effects that we know can have a significant impact on their career, "Hinds said.
The use of unconditional offers has been ballooned since the government abolished the cap on the number of undergraduates each university in England could recruit, allowing expansion at a time when the number of school leavers was declining.
Universities that use unconditional offers said they saw few signs that affected their students' efforts before or after arriving on campus.
Prof. Graham Galbraith, Portsmouth's vice-chancellor, said: "The Ucas analysis reinforces my belief in the appropriateness of the University of Portsmouth's own unconditional offer scheme. We have found that applicants to whom we make unconditional offers are more likely to reach their predicted grades than applicants to whom we make conditional offers. "
To maintain motivation, Portsmouth also offers students with unconditional offers to £ 1,000 bursary if they achieve their predicted A-levels.
Galbraith said the Ucas data highlighted a serious problem with the unreliability of A-level predictions used for conditional offers. "If 18-year-olds know that their predicted grades are no more accurate than a coin toss, is it any wonder they report that unconditional offers reduce their stress levels and improve their mental wellbeing?"
Ucas estimated that unconditional offers led to 1,015 18-year-olds getting A-levels that were two grades lower than predicted.
Professor Chris Husbands, vice-chancellor of Sheffield Hallam University, said his institution made hundreds of unconditional offerings, out of the more than 7,000 undergraduates it recruited this year.
"We do not use them to put bums on seats, in the minister's phrase, we use them to position ourselves at the top of the attainment range and attract a high caliber of students. These are students who are going to university, and I want them to come here and not to a university down the road, "said Husbands.
Sheffield Hallam has carefully followed the performance of its students who accepted unconditional offers, and found no difference in their attainment or later results.
A survey of 18-year-olds by Ucas found 70% of applicants support the use of unconditional offers, noting: "Many speak about a reduction in stress, and the mental health and wellbeing benefits this confers."
The University and College Union said the controversy showed that the UK's system for university applications needed a radical overhaul.
It said: "The time has come for the UK to join the rest of the world and adopt a system of post-qualification admissions, where offerings are based on actual achievement rather than estimated potential."
[ad_2]
Source link