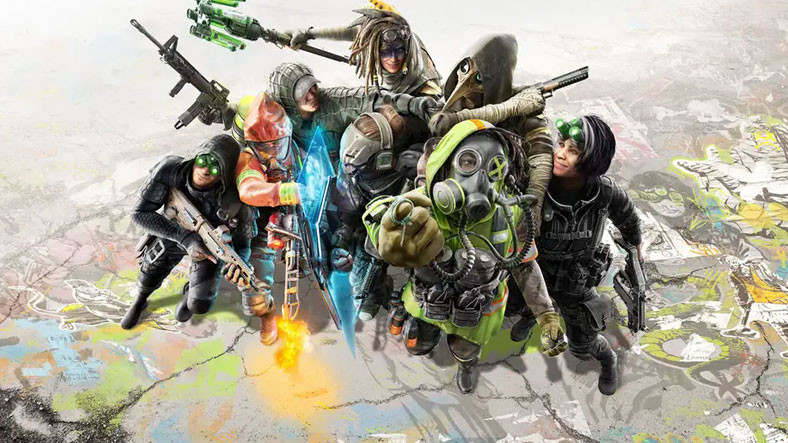 Ubisoft announced Tom Clancy's XDefiant, a completely free FPS game developed by the San Francisco studio, with a video released. Let's look at all the details of the game we know.
A claim made over the past few weeks about Ubisoft has led to new expectations throughout the gaming world. This game will bring together The Division, Ghost Recon and Splinter Cell games from the Tom Clancy and It will be FPS type it was said. It was even shared that there would be four different classes in the game: The Echelon, The Wolves, The Cleaners and The Outcasts.
Today, Ubisoft surprisingly introduced its new game. The giant producer, who postponed Rainbow Six: Extraction to 2022, touched on both in-game gameplay and the details of the game with the 3-minute video he shared. Come on, Ubisoft's Tom Clancy's XDefiant Let's look at all the details of the game:
6v6 matches in competitive environment:
Each team will have 6 players in the game. Although every game mode that will be in the game has not been announced yet, Ubisoft has at least Destroy and protect modes announced that he will be in the game. The game looks like it will have a lot of action with high tempo combat. Of course there will be tactics in the game, but if we consider the total Tom Clancy's series, this tactics will be less and the game is more 'hit and run' style, a battlefield where you have to trade fast it will be.
The claims were true: There are four different classes:
The game, which confirms the claim made earlier, Echelon (Tom Clancy's Splinter Cell), Wolves (Tom Clancy's Ghost Recon), Cleaners en Issuers (the latest duo from Tom Clancy's The Division) will have their class. According to the statement, however, the number of these classes will be expanded in the future with characters from the universes of various games.
RELATED NEWS
DLSS support for Red Dead Redemption 2 performance (video)
The game is completely free:
The biggest feature of Tom Clancy's XDefiant is, completely free one way or another are presented to the players. The game, which will be released for Xbox One, PlayStation 4, Xbox Series X / S, PlayStation 5, PC and cloud systems, will be tested by players in the US and Canada on August 5 and will be available for early access.
$(function(){
//facebook window.fbAsyncInit = function() { FB.init({ appId : '1037724072951294', xfbml : true, version : 'v2.5' }); };
(function(d, s, id){ var js, fjs = d.getElementsByTagName(s)[0]; if (d.getElementById(id)) {return;} js = d.createElement(s); js.id = id; js.src = "https://connect.facebook.net/tr_TR/sdk.js"; fjs.parentNode.insertBefore(js, fjs); }(document, 'script', 'facebook-jssdk'));
$('body').on({ click: function() { // facebook save button ajax FB.XFBML.parse(); } }, '.facebook-save');
// share scroll if ($('.content-sticky').length > 0) { if ($(window).width() >= 768) { $(window).on('scroll', function () { var scrollTop = $(this).scrollTop(); $('article').each(function () { if (scrollTop >= ($(this).find('.content-body').offset().top - 76)) { $(this).find('.content-sticky').addClass('sticky'); if (scrollTop >= ($(this).find('.content-body').offset().top + $(this).find('.content-body').height() - ($(this).find('.content-sticky').height() + 92))) { $(this).find('.content-sticky').removeClass('sticky'); $(this).find('.content-sticky').css({'bottom': '0px', 'top': 'auto'}); } else { $(this).find('.content-sticky').addClass('sticky').css({ 'bottom': 'initial', 'top': '76px' }); } } else { $(this).find('.content-sticky').removeClass('sticky').css({'bottom': 'auto', 'top': '0'}); } }); }); } }
// share click $('body').on({ click: function (){ var $this = $(this), dataShareType = $this.attr('data-share-type'), dataType = $this.attr('data-type'), dataId = $this.attr('data-id'), dataPostUrl = $this.attr('data-post-url'), dataTitle = $this.attr('data-title'), dataSef = $this.attr('data-sef');
switch(dataShareType) { case 'facebook': FB.ui({ method: 'share', href: dataSef, }, function(response){ if (response && !response.error_message) { updateHit(); } });
break;
case 'twitter': shareWindow('https://twitter.com/intent/tweet?via=webtekno&text="+encodeURIComponent(dataTitle) + " %E2%96%B6 ' + encodeURIComponent(dataSef)); updateHit(); break;
case 'gplus': shareWindow('https://plus.google.com/share?url=" + encodeURIComponent(dataSef)); updateHit(); break;
case "mail': window.location.href="https://news.google.com/__i/rss/rd/articles/mailto:?subject=" + encodeURIComponent(dataTitle) +'&body='+ encodeURIComponent(dataSef); //updateHit(); break;
case 'whatsapp': window.location.href="whatsapp://send?text=" + encodeURIComponent(dataTitle) +' %E2%96%B6 '+ encodeURIComponent(dataSef); updateHit(); break; }
function shareWindow (url) { window.open(url, "_blank", "toolbar=yes, scrollbars=yes, resizable=yes, top=500, left=500, width=400, height=400"); }
function updateHit () { $.ajax({ type: "POST", url: dataPostUrl, data: {contentId: dataId, contentType: dataType, shareType: dataShareType}, success: function(data) {
if ($('.video-showcase').length > 0) { var $container = $('.video-showcase'); } else if ($('article[data-id="' + dataId + '"]').length > 0) { var $container = $('article[data-id="' + dataId + '"]'); } else if ($('.wt-share-item[data-id="' + dataId + '"]').length > 0) { var $container = $('.wt-share-item[data-id="' + dataId + '"]'); } else { $container = null; }
//var $container = dataType == 'video' ? $('.video-showcase') : $('article[data-id="' + dataId + '"]');
if ( $container != null && $container.length > 0 ) { var $badged = $container.find('.wt-share-badge-' + dataShareType);
var $headerCount = $('.content-header').find('.wt-share-count'), $containerCount = $container.find('.wt-share-count'), value = parseInt($containerCount.html()) + 1;
$container.data('share', value); //$containerCount.html(value);
if ($headerCount.length > 0) { //$headerCount.html(value); }
if ( $badged.length > 0 && (dataShareType == 'facebook' || dataShareType == 'twitter')) { if ($badged.hasClass('is-visible')) { //$badged.html(data); } else { //$badged.addClass('is-visible').html(data); } } }
} }); } } }, '.wt-share-button') });