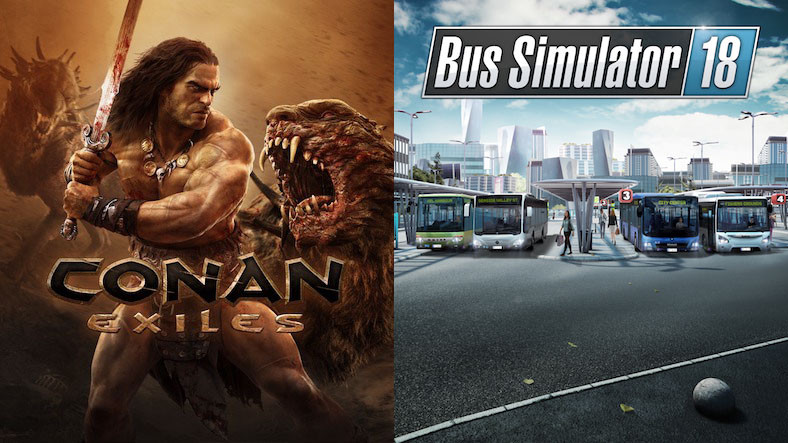 Epic Games has made a strong entry into the market with its new game store.
Steam, that is the first platform in & # 39; For many years as the game is called, is now a serial service. Fortnite's producer Epic Games wants to take his place in the sector with his new game store.
The gameplay development will give every two weeks the month of December, Epic Games made it available for Conan Exiles, which has been sold for $ 109 this week, and Bus Simulator 18 for $ 78.
Epic Games, Subnautica will present on December 14, 2018 and Super Meat Boy for free on December 29, 2018, seems to be an excuse for us by raising competition.
To get free games for Conan Exiles and Bus Simulator, just click on the links in the game names and your Epic Games account and free up your order for free.
Update: The free games of Epic Games are called editing tools known as Mod Kit. We were surprised that Epic Games did not provide enough information about the topic 🙂 We were sorry.
$ (Function () {
// facebook window.fbAsyncInit = function () { fb.init ({ appId: & # 39; 1037724072951294 & # 39; xfbml: true, version: & # 39; v2.5 & # 39; }); };
(function (d, s, id) { var js, fjs = d.getElementsByTagName (s)[0]; as (d.getElementById (id)) {returns;} js = d.createElement (s); js.id = id; js.src = "http://connect.facebook.net/en_US/sdk.js"; fjs.parentNode.insertBefore (js, fjs); } (document, & # 39; script, & # 39; facebook-jssdk & # 39;));
$ (& # 39; Body & # 39;). Ten ({ click: function () { // facebook button ajax As fb.xfbml.p (); } }, & # 39; .facebook-save & # 39;);
// share scroll If ($ ("content-colored") was> 0) { as ($ (window) .breed ()> = 768) { $ (window) .on (# scroll, function () { have scrollTop = $ (this). scrollTop (); $ (& # 39; article & # 39;) each (function () { as (scrollTop> = ($ (this) .find (# content; body-body) .opset () top-76)) { $ (Dit) .find (# The Content-Sticky & # 39;). AddClass (& # 39; sticky & quot;); (($ (this) .find (# content; body-body) .offset () .jpg (this) .find (& # 39; .host-body & # 39;) .hichte () ($ (this (. & # 39; content-sticky;) .hichte () + 92))) { $ (Dit) .find (# The Content-Sticky & # 39;). RemoveClass (& # 39; sticky & quot;); $ (this) .find (& # 39; content-sticky & # 39;). css ({& gt; bottom & # 39; 0px & # 39; top & # 39; auto & # 39;}); } else { $ (Dit) .find (# The Content-Sticky & # 39;). AddClass (& # 39; sticky & quot;). Css ({ First & # 39; first & # 39; & # 39; top & # 39; 76px & # 39; }); } } else { $ (this) .find (& # 39; content-sticky & quot;) removeClass (& quot; sticky & quot;) css (& quot; bottom & quot; auto & # 39; Top-39: 0 & # 39;}); } }); }); } }
// share click $ (& # 39; Body & # 39;). Ten ({ click: function () { var $ this = $ (this) dataShareType = $ this.attr (# data-share-type & # 39;), dataType = $ this.attr (& # 39; data-type & # 39;), dataId = $ this.attr (& # 39; data-id & # 39;), dataPostUrl = $ this.attr (& # 39; data-post-url & # 39;), dataTitle = $ this.attr (& # 39; data-title & # 39;) dataSef = $ this.attr (& # 39; data-sef & # 39;);
switch (dataShareType) { case & # 39; facebook & # 39 ;: fb.u of ({ method: & # 39; share & # 39 ;, href: dataSef, }, function (answer) { as (answer &&! response.error_message) { updatehit (); } });
brekke;
case & # 39; twitter & # 39 ;: shareWindow (http://twitter.com/intent/tweet) via = webtekno & text = & # 39; + encodeURIComponent (dataTitle) +% E2 96% B6 + + encodeURIComponent (dataSef) ); updatehit (); brekke;
case & gt; shareWindow (& # 39; https: //plus.google.com/share? url = & # 39; + encodeURIComponent (dataSef)); updatehit (); brekke;
case & # 39; mail: window.location.href = & # 39; emailto :? subject = & # 39; + encodeURIComponent (dataTitle) + & # 39; & body = & # 39; + encodeURIComponent (dataSef); // updatehit (); brekke;
case whatsapp & # 39; window.location.href = How to send Whatsapp: // text = & # 39; + encodeURIComponent (dataTitle) +% E2% 96% B6 & # 39; + encodeURIComponent (dataSef); updatehit (); brekke; }
function shareWindow (url) { window.open (url, "_blank", "toolbar = yes, scrollbars = yes, resizable = yes, top = 500, left = 500, width = 400, height = 400"); }
function updateHit () { $ .Ajax ({ type: "POST", url: dataPostUrl, data: {contentId: dataId, content type: dataType, shareType: dataShareType}, success: function (data) {
as ($ (& # 39; video displaycase & # 39;). length> 0) { var $ container = $ (& # 39; video showcase & # 39;); } otherwise than ($ (& # 39; article;[data-id="' + dataId + '"]& # 39;) .length> 0) { var $ container = $ (& # 39; article[data-id="' + dataId + '"]& # 39;); } differently as ($ (& # 39; .wt share-item[data-id="' + dataId + '"]& # 39;) .length> 0) { var $ container = $ (& # 39; .wt share-item[data-id="' + dataId + '"]& # 39;); } else { $ container = null; }
// var $ container = dataType == & # 39; video & # 39 ;? $ (& # 39; video displaycase & quot;): $ (& # 39; article[data-id="' + dataId + '"]& # 39;);
as ($ container! = null && $ container.length> 0) { var $ badged = $ container.find (& # 39; .wt share-badge - & # 39; + dataShareType);
search $ headerCount = $ (& # 39 ;. Content-header & # 39;). find (& # 39; .wt share-count & # 39;), $ containerCount = $ container.find (& # 39; .wt-share-count & # 39;), value = parseInt ($ containerCount.html ()) + 1;
$ container.data (& # 39; share, value); //$containercount.html(valu A);
as ($ headerCount.length> 0) { //$headercount.html(valu A); }
as ($ badged.length> 0 && (dataShareType == & # 39; facebook & | 39; || dataShareType == & # 39; twitter) as ($ badged.hasClass (& # 39; is-visible & # 39;)) { //$badged.html(dat A); } else { //$badged.addclass('is-visible&#39 ;).html(dat A); } } }
} }); } } }, & # 39; .wt share-button & # 39;) });
Source link