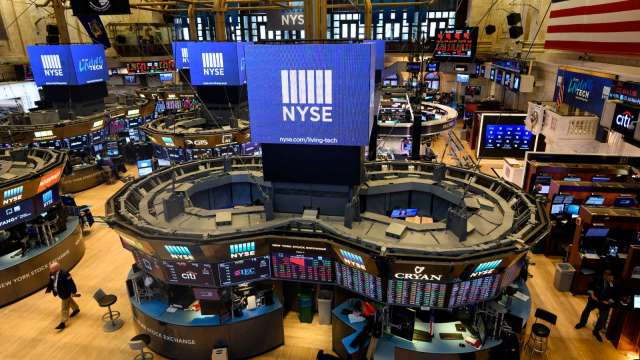 Tuesday (20th) the global COVID-19 pandemic worsened, the Indian pandemic was out of control, US bond yields fell, corporate income news failed to boost US equities, Apple's Spring Conference could not justify its share price, energy and financial stocks led the decline, aviation Stocks fell, the four major indices all closed in black, the Dow Jones fell by more than 200 points, and the compensation half-index fell by more than 1.5%.
U.S. Secretary of Commerce Gina Raimondo stated at the infrastructure planning hearing that the United States is completely dependent on semiconductor production in China and Taiwan, and that the United States is facing a national security crisis.
US President Biden has consulted with both parties in an attempt to seek support for his infrastructure plan, but no substantial progress has been made yet. Sources confirmed Tuesday that Biden's new round of economic recovery plans is expected to cost more than $ 1 trillion, including an extension of the child tax credit.
Fed Chairman Bauer said that although the US economic recovery has improved, most Fed officials believe that the interest rate will not be increased until 2024.
In terms of geopolitics, Chinese national leader Xi Jinping delivered a speech at the opening ceremony of the Boao Forum 2021 for annual conference in Asia. Xi Jinping called for the establishment of a new world order and warned the United States not to be arrogant or free from trade,
African country Chad (Chad) President Deby Itno (Idriss Deby Itno) has died after being wounded in a war between the northern command of government troops and the rebels. His son Mahamat Kaka served as interim president.
The global epidemic of new crown pneumonia (COVID-19) remains short-lived. Before the deadline, according to real-time statistics from Johns Hopkins University in the United States, the number of confirmed cases worldwide has exceeded 142 million, and the number of deaths has increased by 2.97 million. The United States has collected More than 31.77 million cases were diagnosed, and the cumulative number of deaths above 568,000. The cumulative number of confirmed cases in India exceeded 15.32 million, and the cumulative number of confirmed cases in Brazil was 13.97 million.
The number of confirmed cases in India continued in one day with more than 270,000, setting a record high. Indian Prime Minister Narendra Modi said on Tuesday that the country is currently fighting the second wave of the new crown epidemic, but the national blockade is a last resort and should be avoided as much as possible. Because the Tokyo Olympics are imminent, the epidemic in Japan is heating up, and Tokyo and Osaka are likely to re-establish a state of emergency.
Tuesday (20th) the performance of the four major US stock indices:
The U.S. stock Dow Jones index fell 256.33 points, or 0.75%, to close at 33,821.30 points.
The S&P 500 index fell 29.78 points, or 0.72%, to close at 4,133.50 points.
The Nasdaq index fell 128.50 points, or 0.92%, to close at 13,786.27 points.
The Philadelphia Semiconductor Index fell 49.56 points, or 1.56%, to close at 3,121.43 points.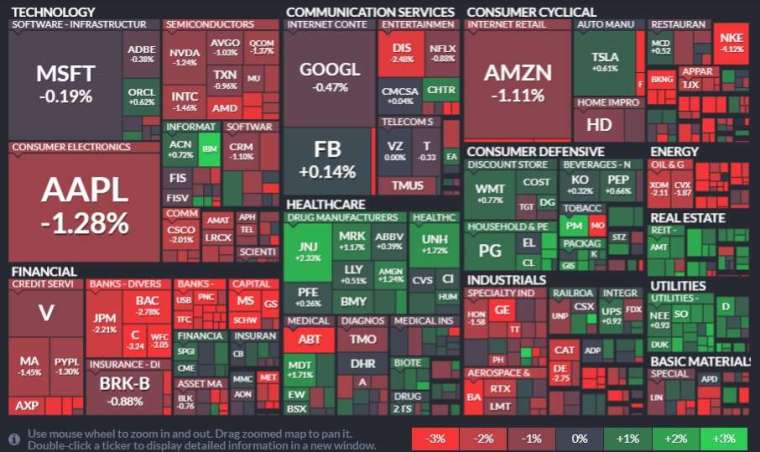 Focus stocks
The five kings of science and technology are only the strongest on Facebook. Apple (AAPL-US) fell 1.28%; Facebook (FB-US) rose 0.14%; Alphabet (GOOGL-US) fell 0.47%; Amazon (AMZN-US) fell 1.11%; Microsoft (MSFT-US) fell 0.19%.
Existing shares of Dow Jones received more blacks. Boeing (BA-US) fell 4.13%; Nike (NKE-US) fell 4.12%; Goldman Sachs (GS-US) fell 3.27%; Dow Chemical (DOW-US) fell 0.75%; Disney (DIS-US) fell 2.48%; IBM (IBM-US) increased 3.79%.
Fei's half-drivers all locked in black. Applied Materials (AMAT-US) fell 1.76%; Micron (MU-US) fell 1.05%; AMD (AMD-US) fell 2.27%; Intel (INTC-US) fell 1.46%; NVIDIA (NVDA-US) fell 1.24%; Qualcomm (QCOM-US) fell 1.37%.
The ADR of Taiwan shares was mixed. TSMC ADR (TSM-US) fell 0.39%; ASE ADR (ASX-US) rose 1.41%; UMC ADR (UMC-US) fell 0.11%; Chunghwa Telecom ADR (CHT-US) ran 0.64%.
Stock news
Apple (AAPL-US) fell 1.28% to US $ 133.11 per share. Apple held an online spring conference (Taiwan's 21st time) on Wednesday at 9 p.m. In addition to the new iPad and AirTag released one after the other, Apple also launched a new generation iMac that uses its own chip, adding the paired version of the iPhone 12 and iPhone 12 mini.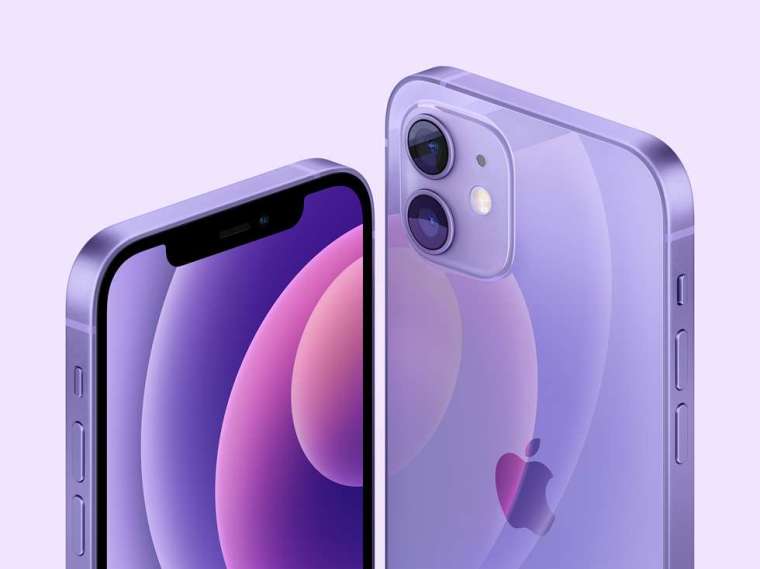 Tesla (TSLA-US) rose 0.61% to $ 718.99 per share. After Tesla was appointed by the Chinese state media Xinhua News Agency, Tesla China issued an apology statement and will set up a special handling team to try its best to satisfy car owners.
Johnson & Johnson (JNJ-US) rose 2.33% to US $ 166.48 per share. The European Medical Agency, the European Union's health regulatory agency, is of the opinion that the benefits of Johnson & Johnson's vaccine outweigh its disadvantages. Johnson & Johnson is advised to place a warning on the packaging. The product may cause rare thrombotic side effects. Johnson & Johnson announced on Tuesday that it will continue launching its new crown vaccine in Europe.
United Airlines (UAL-US) fell 8.53% to $ 50.30 per share. The company's net loss in the first quarter was as high as $ 2.4 billion.
Netflix (NFLX-US) closed 0.88% in black, and its share price dropped to more than 10%. The company announced its latest financial report to the market. The number of new subscribers in the first quarter was 3.98 million, far below expectations.
Wall Street Analyze
Investment bank Wedbush estimates that after the launch of the new iPad refurbished demand will be released in the next few quarters, which will give Apple another tailwind.
Investment bank Janney Montgomery Scott explained that there is a bubble in US equities and may be vulnerable to higher volatility in the future. However, there is no technical signal that is conducive to the previous long-term high. In other words, prepare for consolidation, but this is not a bull market. The end.
Callie Cox, senior investment strategist at Ally Investments, said the current market is a bit nervous and the stock market may see a small step rise or fall. This is normal. It is expected that once the market falls, there will be bargaining,