April 14 (TASR) – The universe is interested since strange children. Perhaps, like all children, they were fascinated by the black holes that are under astronomy under the most complicated theme. Science realizes the universe and the Solar system is better, but it seems to focus too much on pragmatic goals like the month, Mars or asteroids. Major surprises can be expected by humans not only at the end of the Solar System, but also at close planets such as Venus. Jana Plauchová, astronomer of the Regional Observatory and Planetarium M. Hell in Žiar nad Hron and also the writer of various sci-fi novels, says in an interview in "TASR Persons": Faces, Thoughts multimedia project.
– Did you get the job of astronomer, who inspired and fascinated you in space?

I'm interested in the universe since boys. I asked my parents what the black holes were and couldn't answer me enough. As I grew steadily, it seemed to me logical that knowledge is not just about earth, but goes up. My parents bought me a large encyclopedia, where there were a few pages about the universe, and the rest of the book was dedicated to earth. Then I asked why the universe was written on some pages if it is much larger than our planet. I told my parents that it should be the other way. Later on I realized that we have more knowledge about the earth and not just the universe.
– You often talk about space. Which people are most interested in asking?

It depends on whether they ask children or adults. Ask children about black holes, which is a very challenging topic in the whole universe. On the other hand, I was no other child.
– You also asked about black holes?
Yes, I was most interested. Children are still a question of whether there are foreign ones. Adultums have more different questions and usually to the brigades. So they want to see where & # 39; it's a sign in the universe.
Because of this, questions and interests are also more distance. But do we have enough Solar System folders?
I think very well. Scientific research and technology are well-known, space cities are successful, and scientists receive high quality material for study. On the other hand, I think the importance of researchers is disseminated by our Solar System. Interest in the month is understood to be the closest space with a stable distance. We are, however, interested in Mars too much for the disadvantage of other interesting places in our solar system. Several problems have already arisen on Mars, while Uranus and Neptune are the only ones to study. I understand practical reasons. Mars is seen as the only planet where there is a chance of human crew. Asteroids are investigated with the perspective of potential mineral mining. The background motivation is not just the human work, but also benefits and money. I'm a little shy, though I realize space is a very expensive business.
– Are all the surprises waiting for the Solar System research subsystem?–
We had seen them recently as it reduced the spacecraft to two bodies in the Tuberbelt (the Solar System area after the Neptune Rail, note TASR) and everyone was completely different from what the scientists expected. We can expect more surprises especially in further areas.
– for example, the confirmation of a mysterious planet that still needs to be in Pluto?
Calculations show that there may be some material. But we must realize that the sun system is great. The concept of ending up at Pluto is not true. There is still a whole lot that doesn't look right and can have a variety of things, including a bigger body.
– You are also interested in flying in space, reading about space mistakes. What is your interest in this topic?

I was struck by the tragedy of one of them, Columbia. It has not only inspired my interest in them, but also in space. Despite two tragedies, I thought the shuttle to be an inexorable machine. The look is beautiful, but very useful. He could carry the drawer in a job, manipulate it in a circle at bob, contain it, complete, execute experiments. In comparison with other space explorer, it is clear ahead.
– What space-based perspectives for spaceflight, or is it just a means of connecting to earth's orbit?
All this was his goal. The shuttle also refers to the aircraft and the fact that it believed in & # 39; land. Spacecraft that country at month may not have this form. I don't think shuttles should be transported between the planets by means of transport.
– You are the writer of various successful science fiction works. How did you write this genre?
It was not a landmark decision. Inspiration came and I knew I had to get it on paper. But I had no literary experience or skill. It is not easy to write a book. That's why I kept this idea in mind until the conditions came for writing and lasting six years. With other novels, the time from idea to writing was sold and it was even easier.
– What happens to you? –
For example, they are different mysteries from the universe when I get an idea of ​​how to define them. It is, however, a science-fiction genre, and so the ideas to clarify these mysteries are a little wild. I have to concede that my hypothesis cannot be a direct scientific study. My sources are both artistic fiction and real scientific knowledge. I also see it as a kind of popular knowledge of space and science fiction.
– Many 20th-century writers have assumed that today, by 2020, we normally fly to the stars. Why were they in this respect wrong?
In the past century, space travel was mainly about prestige. Since the 1950s, cosmic races between the United States and the Soviet Union have begun. As a consequence, something unattractive is just eight years after the start of & # 39; the first man in & # 39; When he came to the cosmos, he spent the month. The enthusiasm was handed over to a sci-fi storytelling that was expected to continue a disaster, and in 2000, man saw somewhere on Saturn. However, there was a problem that reduced space program support for economic reasons. We must realize that although we reached the month, it is an unparalleled lighter goal than anything in the world. It has a constant distance of 384,000 kilometers, can be reached three days, and as the astronauts in & # 39; The problems with what happened at the Apollo 13 flight can be relatively easy to return. It would be a bigger problem for flying to Mars. The closest distance to the earth is 50 million kilometers, but if the planet moves beyond the Sun, astronauts would not be easy to return. Another problem that is not solved is landing and fleeing from a foreign planet that has a different sphere and gravity. We also have no knowledge of how the human organism would seduce longer flights, if it would react.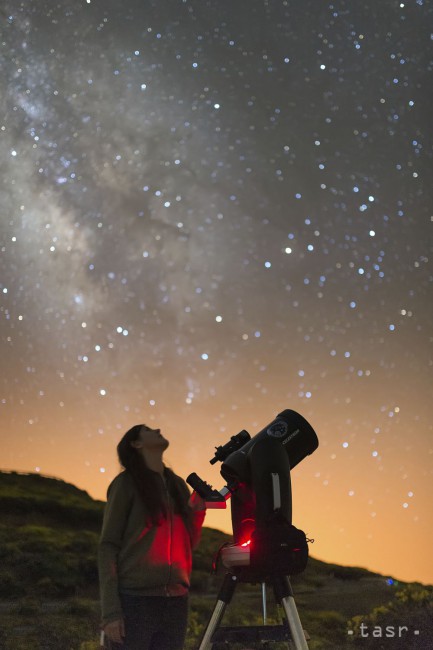 -Mesiak is only a few days away from the Earth, but we've been to & # 39; e end of 1972. Haven't we lost time?
In the past, I have to say that the problem was financial. Arrowheads are expensive. Cosmonauts, their survival and error conditions must be taken care of. Proof birds are cheaper, easy, and therefore preferable.
– On the other hand you write in your works that traveling to the stars and other planets with intelligent life can also be done with current technology. Is it really real?
This is of course fiction, but it is not completely unfounded. In the top page of "An Atmosphere", where there was a teleportport between the Earth and the distant planet in the book, there are some poor explanatory phenomena, such as electromagnetic lightning. The researchers found in the book that a year's exploration of an extrasolar planet & # 39; The planet is much simpler, but it has its own tax, and without proper preparation and discovery, it can hardly end.
– Your last book is on Venus. Why right there? What makes this planet interesting?
I am very angry about how many Mars has been discovered and how small Venus is. Venus is much more than Earth than Mars. Both planets are closer together and have a similar weight. Venus has 9/10 of & # 39; a gravity of & # 39; an earth that is suitable for potential colonization, and also a similar average of earth. It has a denser atmosphere than Mars and is the only solar planetarium except Earth, where it is thought active volcanic activity. Of course, for our high temperatures and the atmospheric composition, it is indispensable for us, but it is not my feeling why we are sending five more crude to Mars and not one to Venus.
– I see as an interesting child from your lecture and ask if there are foreign people?

I don't believe in it and I have two lectures. In books I write, I take it as part of some artistic fiction. Even in fantasy stories, dragons, various magical characters, and perhaps their authors have not believed they were true. However, I use aliens in my novels, but not exaggerated. In sci-fi stories, it's a bit of a blank theme. For me, it is also a signal that people do not seek in the universe that is different from us, but on the contrary, just what the earthly life did. That is a little sad for me.
– Perhaps there is no great chance that foreign life is very similar to us. Ultimately, in the book Eternity of Mistakes you are writing about a planet controlled by a kind of intense wine. Are we in space an exception that you usually confirm?
However, this is not the same. Perhaps the earthly life has developed in one possible form. There are many possibilities where there can be differences between intelligent beings, but they are still open-ended questions, we know only the forms of earthly life. It is in them that many unrelated organisms have been developed in similar forms. For example, the type of vertebrate development developed independently is in the most common molluscs. It can be seen that in order for one body to work properly, it may not look otherwise.
Interview with Jana Plauchová is part of the Multimedia Project Persons: Faces, Thoughts, who are interviewing them, photos and videos of people of Slovak, European and world politics, social, economic, sports and cultural life.
Source link