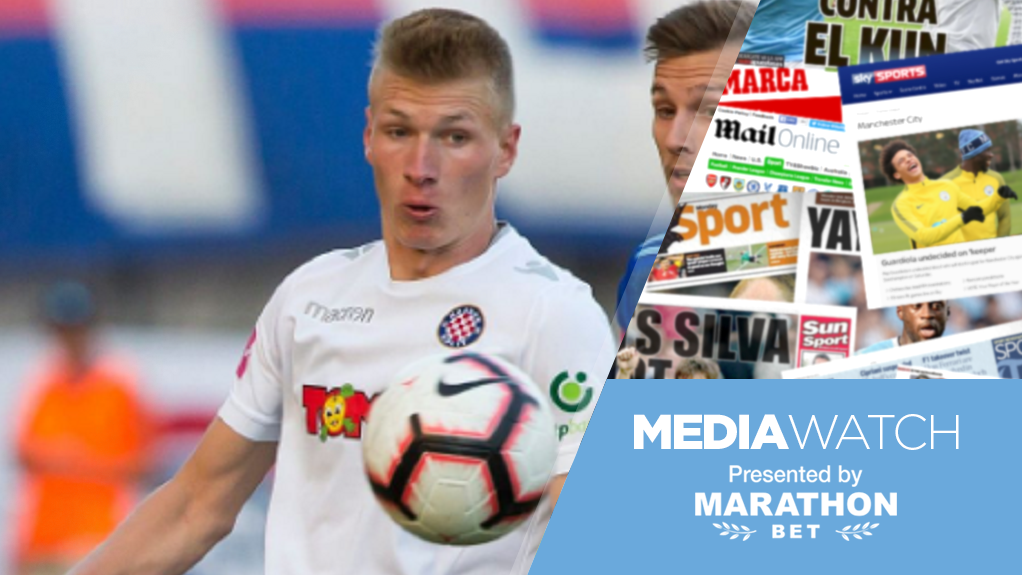 Plenty to go at this morning with suggestions for the prominent Croatian midfielder plus Bernardo and Kevin De Bruyne are quoted in several tabloids.
All that plus Huddersfield's tongue-in-cheek manager unveiling (which does have City links).
We kick off with Soccer Souls (via Sky Sports), who believe the Blues are closing in on Hajduk Split holding midfielder Ante Palaversa.
RED: Prolific City leave PSG, Barca and bayern in their wake
RED: City's stunning squad goals
They report: "Manchester City are close to agreeing on a deal to sign Ante Palaversa from Hajduk Split. The report further states that a fee of £ 7m will be paid by the Cityzens.
"A holding midfielder by trade, the youngster could go on to become City's much-needed replacement for Fernandinho.
"A true-blue defensive midfielder by trade, Palaversa is excellent at breaking the play in the middle of the park. An extremely controlled and calculated player, the 19-year-old does not blindly rush into challenges.
"His composition and game intelligence is his age but at the same time, it also sets him apart.
"The fact that he is the captain of Croatia's U19 team speaks volumes of his leadership skills and understanding of the game. In essence, he is already a lot like Fernandinho – both in terms of playing style as well as mental strength. "
However, if we mentioned countless times in this column, Pep Guardiola has insisted no business will be done in January – so we move on…
The National focus on Kevin De Bruyne's battle to get back to his best as quickly as possible.
The Belgian was his first 90 minutes of his second return from injury against Huddersfield Town on Sunday, but the Blues' talisman playmaker says it's been a difficult campaign so far.
They write: "De Bruyne admitted he struggled mentally after suffering a second knee injury in three months.
"And while the Manchester City midfielder is a month into his latest comeback, he feels is not ready to start a game every three days.
"De Bruyne, who was first hurt in training in August, started a Premier League game for just the second time this season in Sunday's 3-0 win over Huddersfield Town.
"While he has helped set up City's second goal, which was scored by Raheem Sterling, he accepts it is yet to touch the heights he reached last season.
"He said," I try to do my best and try to come back in the form I was last year. But if you play every three days, I'm not used to it for the moment, and I just need the time to get used to it and get in my rhythm.
"It's more difficult if you play a week, then it's seven or eight days you can't play and then you play again. You get the rhythm, but not the rhythm you need to play every three days.
"You need a run of games where you play a lot. I'm getting better. I'm happy with the way I'm performing. It's not the same record as last year, but you can expect that I've been out since the World Cup.
"I've been out for nearly six months, so I think the second time was more difficult mentally because I was really ready to perform well.
"I was doing well, I think, then somebody fell on my knee and you have to restart again. To come back twice is not mentally easy, but I'm happy to be back playing again. "
Meanwhile, Bernardo Silva is featured in the Manchester Evening News.
The Portuguese says he is loving life at City and wants to win "everything".
The BUT quote him saying: "I'm very happy here at Man City – not only with the staff but I look around at my teammates and it's a young team that can achieve fantastic things. To look at the future and think that if we stay together, we can do special things, I am very happy here and want to stay.
"That's the goal of all the directors and the owners because of the way they shape the team with young players and a fantastic squad. Our goal is to try to keep the same level, winning competition after competition every year.
"We are still in the beginning knowing that it is very difficult to do, but we will try it. We have a very young squad with a lot of very good players, and we will try to win as many things as we can about the next seasons.
"When I was younger, I could never have imagined that I would have already won a league in Portugal, a league in France, a league in England and playing for the national team. I'm happy with what I've achieved but when you've done these things you always want more. That's what I try to do. "
Return to KDB, who is again quoted – this time on the title race The Independent…
"De Bruyne has admitted that Manchester City will have to be on their side if they are to over Liverpool at the top of the Premier League table.
"Liverpool beat Crystal Palace 4-3 on Saturday afternoon to very late lead to seven points, before Manchester City eased managerless Huddersfield Town on Sunday to reduce the gap.
"City won the match at a canter and have now won four straight Premier League games, but De Bruyne has admitted his side will need to play its part if they are to catch up with Liverpool.
"There is always luck involved," he said. "If you want to get something, you need luck, you need good shape, everybody needs to be on it. It's a consequence of everything. "
"But added that City had been unable to find the time to watch the whole of Liverpool's win against Palace on Saturday.
"We were training at the time," he said.
"We follow it a little bit, but you can follow it all because we have a life besides that. We try to do everything we can on the pitch, but after that, everyone has families and whatever, so you just have to live with whatever comes. "
Finally, Huddersfield Town could not make the most of Sky's mistaken identity faux pas during the Blues win at the John Smith's Stadium.
The BUT Take up the story: "Huddersfield aimed at hilarious at Sky Sports today after an epic mix-up during their loss to Manchester City.
"The Terriers went down 3-0 to Pep Guardiola's but at the John Smith's Stadium on Sunday.
"Lying at the Premier League table and looking at relegation, they last week parted with German boss David Wagner.
"During Sky Sports coverage yesterday they thought they had spotted the man strongly linked to his successor, Wagner's compatriot Jan Siewert, and sent a reporter into the stand to interview him.
"However, it transpired it was in fact just a Huddersfield fan, Martin Warhurst from Wakefield, who was minding his own business watching the game.
"The hilarious scene played out on the sky TV cameras with the commentator rather sheepishly saying" I think that's a no "as Martin laughed and told reporter Patrick Davison they had got the wrong man.
"He said afterwards:" It was bizarre. Basically, what happened I was sitting in the crowd and suddenly I was aware of a guy coming towards me from the right-hand side.
"He said," Are you Jan, the new manager? " I laughed and said, 'No, no, that's not me. I'm Martin from Wakefield.
"The clip quickly went viral on Twitter last night with Martin becoming an internet sensation.
"And Huddersfield had some fun as they today officially unveiled Borussia Dortmund coach Siewert, 36, as their new boss.
"The club posted a video of Martin counting on the phone:" Hi its Martin from Wakefield. Yep I'm the new head coach. You must have seen it was announced on Sky. "
"Siewert then walks in and says:" Not now Martin from Wakefield "before sitting down and declaring" I'm really happy to be the new head coach of Huddersfield. "
Nicely done.
More gossip and build up to the clash with Burton Albion tomorrow…
The City striker who scored in his sleep …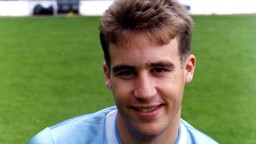 289 goals in one season: The Paul Moulden story: It was a record that left people scratching their head.
Source link