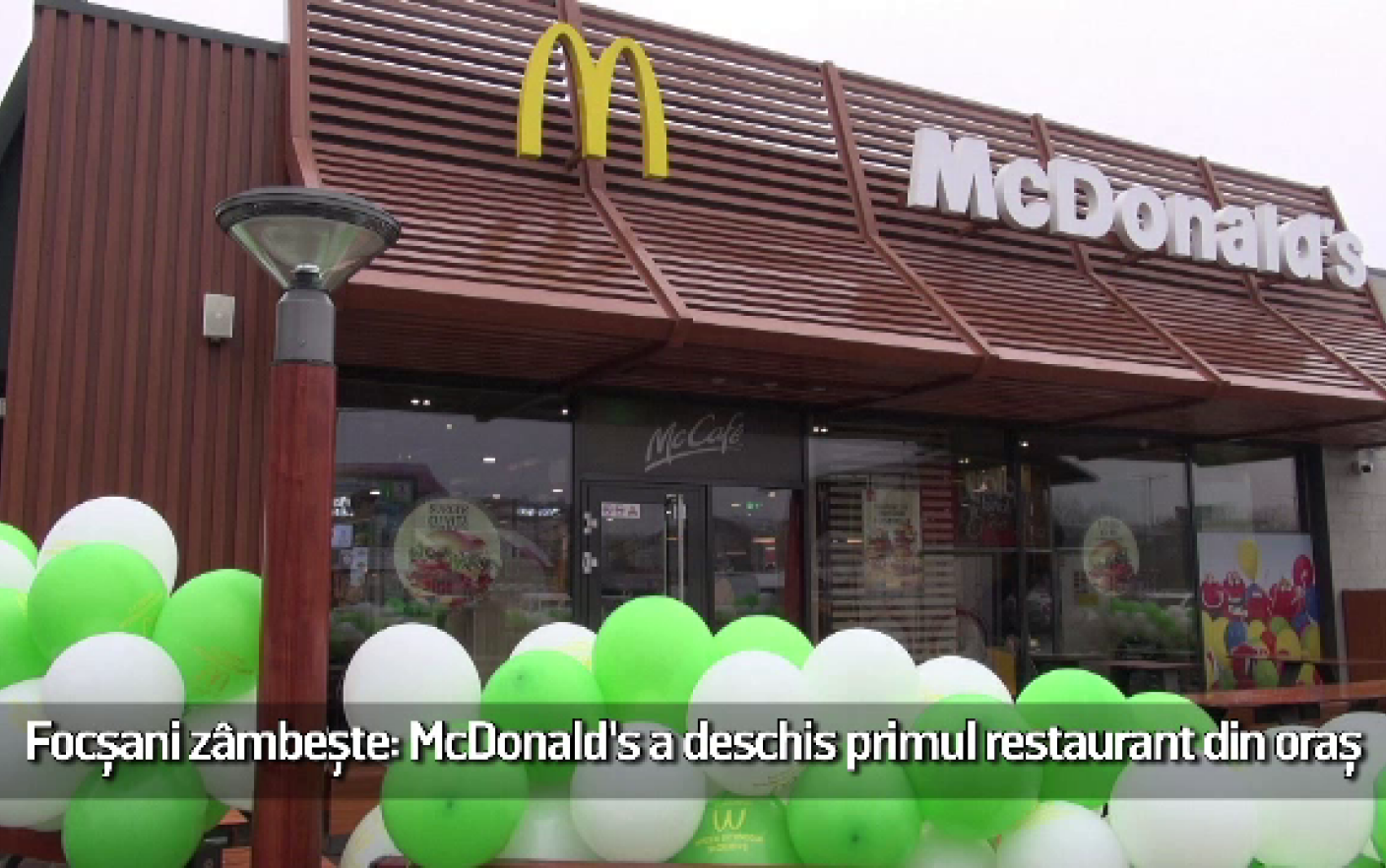 [ad_1]
McDonald's opened at Lucas's 74th restaurant, Focsani!
Romanian Premier Restaurant, a MacDonald development partner in Romania, continues the expansion process and opens the 74th McDonald's restaurant. The new restaurant, which boasts an area of ​​929 square meters, started with an investment of 4.9 million rai and has 65 employees, ready to welcome customers with beautiful smiles and surprises.
Focsani's restaurant has 75 seats indoors, 64 seats terrace, space for themed parties or anniversaries, and a modern design welcomes you in a friendly atmosphere.
"Focsani is one of the cities where we wanted to emerge and we are pleased to be the first to open a McDonald 's restaurant for the community here since we announce our partnership. We are here after an important investment and we want to be a reliable partner for our community. "With a new restaurant in Focsani, McDonald & # 39; s has 65 local teams and staff Hiring continues because there are always open doors for ambitious people who raise their families."Said Daniel Boaje, general manager of the Romanian premier restaurant.
The restaurant offers Focsani customers a unique McDonald experience with innovative designs, fresh products, and a variety of facilities for the whole family prepared on-site at each customer's discretion. Focsani's customers can bring their children to the playground, order tea from the car, enjoy the best coffee and cake at McCafé by car. The restaurant includes a digital display kiosk and a digital menu panel to improve and simplify restaurant interaction.
Upon opening, McDonald's welcomes customers with a proposal valid from November 12th to November 14th. The Big Mac, Macintoshi, Potato or McCafe tall coffee comes with a second home made product.
There are 74 restaurants in 22 cities in Romania, with more than 200,000 customers per day and more than 5,000 staff members every day, providing the best experience for each customer. By the end of the year, McDonald's plans to open five new restaurants.
Romania McDonald & # 39; s Introduction
Since 2016, McDonald's is part of Premier Capital, a McDonald's development partner for Estonia, Greece, Latvia, Lithuania and Malta. Premier Capital plc operates 142 restaurants in major regions, more than half of which have McDrive and numerous McCafé cafes. McDonald's in Romania is a leader in the restaurant market with 74 restaurants in 22 cities. We have invested more than 800 million Ray in Romania so far, with 5,000 employees and more than 200,000 daily clients. In 2017 he was named the best employer for the fourth consecutive year according to AON Romania.
For more information, visit www.mcdonalds.ro and www.facebook.com/McDonalds.ro.
[ad_2]
Source link