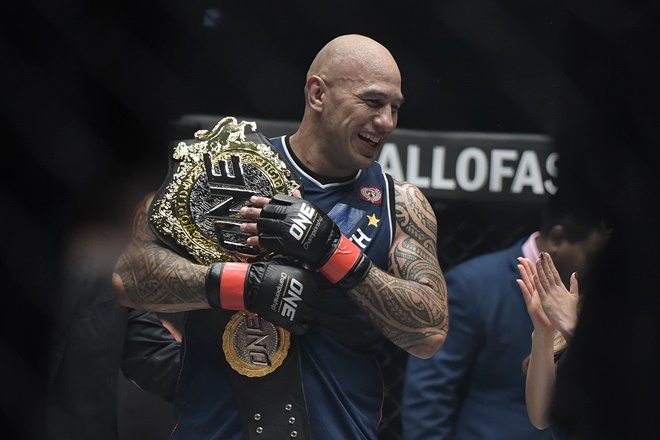 [ad_1]
Brandon Vera had less than a round, while Eduard Folayang had a uniform decision in # two titles of # 39; and ONE Conquest of Champions with Filipinos

MANILA, Philippines – After a two-year episode, Brandon "The Truth" Vera succeeded his title with a heelweight title by a 1st round knockout of Italian Mauro Cerilli on ONE Conquest of Champions in the MOA Arena on Friday 23 November.
In just a minute Vera changed a striking left-wing to curl Cerilli. The referee immediately jumped off when the Italian battalion fails to beat the battle.
In the short run, Eduard "Landslide" Folayang (21-6) decides a decisive unanimous decision on young Singaporean Amir Khan about the title of # to recover light weight.
After an earlier incomplete 1st round, Folayang made an earthquake of spinning # 39 in elsewhere. The 4-minute mark of 2, which blossoms in Khan's mouth. Folayang expanded the mastery round with two other spinning each other back to the Singaporean.
Khan paved in # 3 with a nagging jumping of # 39; The battle, but Folaang went in time. The landslide was back in round 4 with another smoothing of each other as Khan was stored on the shore.
Folajang pointed out the battle with a flying time to the neighbors in # 39; the seconds of the final round.
And in the prime events for power, Honorio "The Rock" Banario (14-7) went away with a unanimous decision on Rahul "Kerala Krusher" Raju.
Banario got a few red heads in # 1 and defended good from Raju's takedowns. Raju managed to get Banario to get ground in round 2, but the Philippines controlled with a few more combos.
Both fighters were visible for much from the 3rd to Banario, a last village and could not go to the clock.
Other matches will win a controversial uniform decision by Saemapetch Fairtex of Thailand on the Russian Alaverdi Ramazanov and a dominant 2nd round TKO win of Philippine veteran Jeremy Miado on China's Peng Xue Wen.
Full results:
Main Card:
Brandon Vera (PHI) def. Mauro Cerilli (ITA) via Rd. 1 KO (left jab, 1:04)
Eduard Folayang (PHI) def. Amir Khan (SG) via UD
Honorio Banario (PHI) def. Rahul Raju (IND) via UD
Saemapetch Fairtex (THA) def. Alaverdi Ramazanov (RUS) via UD
James Nakashima (USA) def. Raimond Magomedaliev (RUS) via UD
Hiroaki Suzuki (JPN) def. Deividas Danyla (LIT) via UD
Prelims:
Samy Sana (FRA) def. Armen Petrosyan (ITA) via UD
Alexandre Machado (BRA) def. Hideki Sekine (JPN) via Rd. 2 TKO (punches, 1:44)
Han Zi Zao (CHN) def. Azwan Che Wil (MAL) (Brain TKO)
Jeremy Miado (PHI) def. Peng Xue Wen (CHN) via Rd. 2 TKO (punches, 0:35)
Akihiro Fujisawa def. Rockie Bactol (PHI) via Rd. 3 TKO (punches, 0:19)
Rudy Agustian (INA) def. Asrafol Islam (BNG)
[ad_2]
Source link