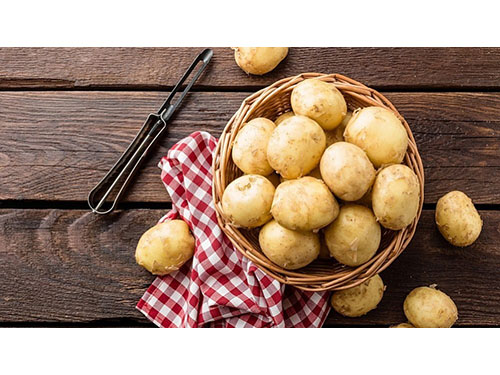 Professor Rimantas Stukas of the University of Vilnius says that in the 19th century Lithuania's main vegetable was turnip, but shortly thereafter it was pulled out of its first position by potatoes. On the other hand, potatoes were consumed 3 to 4 times more than they are now, and vitamin C was not lacking in the past.
Due to the current small potatoes, the heart of the Lithuanian population is more likely to be susceptible to potassium ingestion and, like vitamin C, is rich in potatoes.
Professor Stukas at Vilnius University says that they eat potatoes more often and daily. However, knowing a few facts is very important.
What is the best way to make it?
"The potatoes should be eaten every day, but the production method is very important, and it is best to eat steamed potatoes, and in this way she will not lose a good thing," R. Stukas told the magazine DELFI Diena. – Contains many of the potassium essential minerals needed for cardiac activity. Vitamin C. "
The dietitian says that most of the vitamin C should be eaten when it boils. Professor says that vitamin C in potatoes is reduced by about 50% three hours after boiling.
As a result, you have to eat the potatoes you just cooked. "- says R. Stukas – Unfortunately, some of the Lithuanian population today, especially young people, do not need to buy and cook potatoes in their shops, which makes them less valuable. The fact that we do not use it is also a reaction to heart disease. "
You can burn, but how do you know.
Lithuanians still like to eat fried potatoes, but in this case the vegetables absorb only the fat and are ready to steam completely.
"The kernels have the ability to absorb fat and we can hardly feel fat when we eat it, it looks delicious," says R. Stukas.
– If you want to fry, it is very important to choose the road. If you fry the potato in a non-fat oven, the tin will shine in the oil and the potato will not absorb the oil. This kind of baking is appropriate.
However, if you cut potatoes and sprinkle a lot of oil and bake it beautifully, the fat becomes bigger and becomes very calorie (1 g – 9 kcal). When potatoes are baked in oil, they oxidize the oil to form peroxides, which can be harmful and even lead to cancer. "
As modern potato technology can produce a variety of products, the professor says that potatoes have been baked unnecessarily lately. In them, potatoes are technically processed, so they are no longer as valuable as simple steaming potatoes.
"When we talk about potatoes, we do not classify them as vegetable categories, we treat them as a group of starch products." Even if we look at the nutritional pyramid, potatoes can be found in grains, bread, It is depicted but not as a vegetable because it contains a lot of starch.
Lrt.lt
Source link