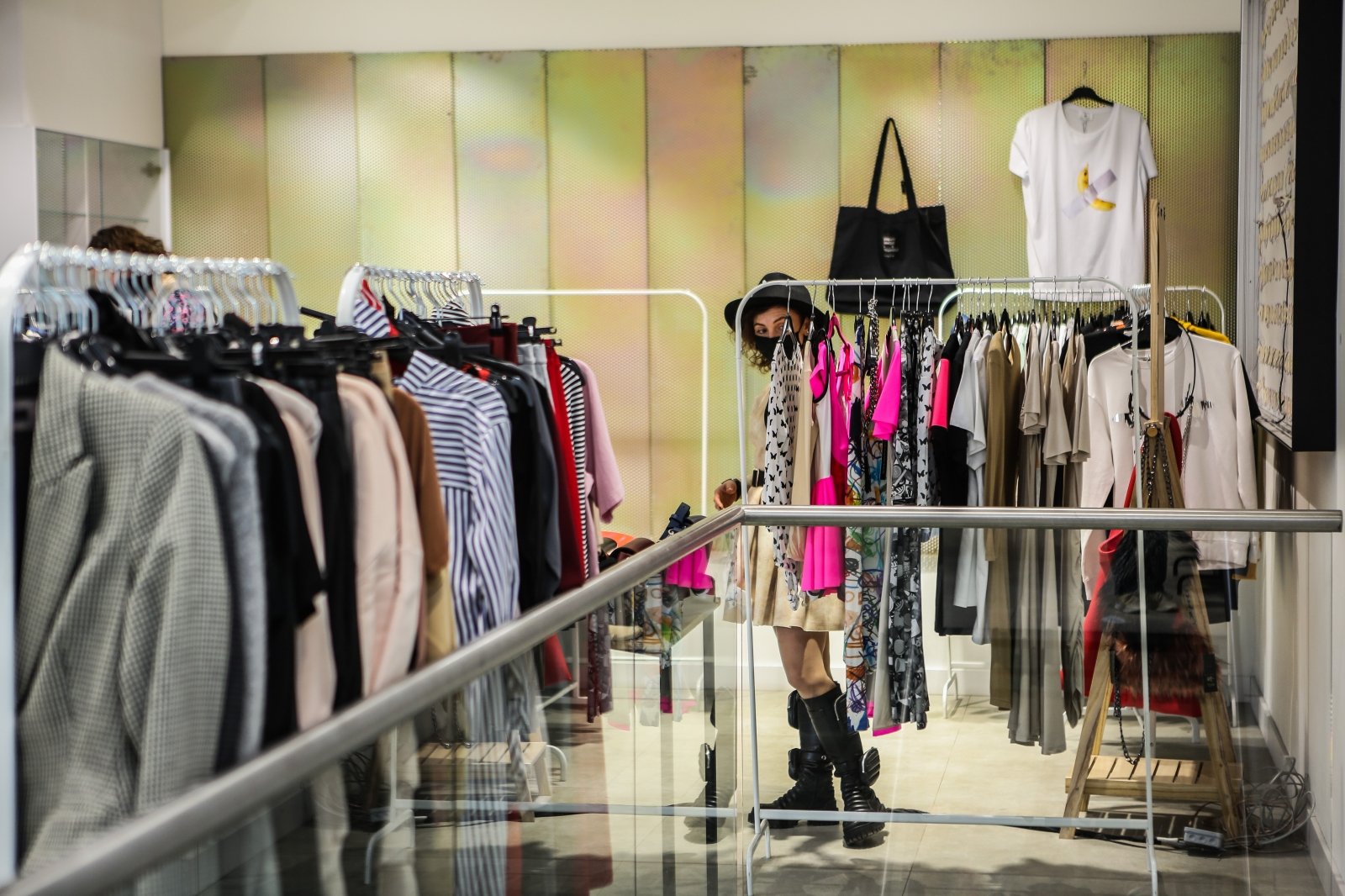 – You are a retailer of Lithuanian brands. Tell us more about what clothes
come here?
– There are many outlets in the world. I would say that this word does not have the most stylish ribbon, but it tells people pretty much exactly what they can expect in a store, so we do not avoid it.
A sale is a place where an endless sale takes place. We try to offer something for every age group, figure and taste. And significant discounts for people are like an incentive to buy.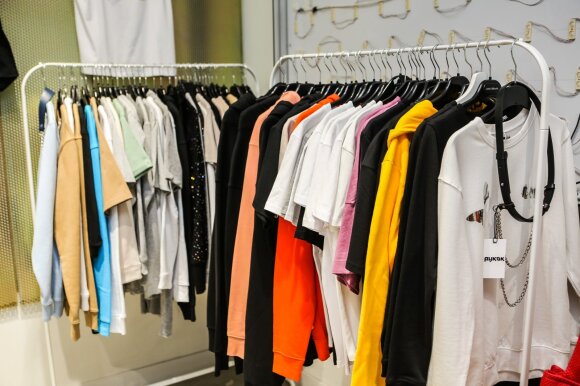 Outshop outlet
© DELFI / Modesta Bear
We are looking for everything we can offer at a discount – we have not only clothes and accessories, but also beauty products with damaged labels. Precisely because a cardboard box with luxurious face cream, which you simply remove when you take it home, is curved – we can offer it for about half the price. For women, this discovery is like a small miracle.
We have a wide variety of clothing: both previous collections of clothing, as well as test models that are unique, and seasonal, but we may have them for a very short time as a special offer for people.
I always say that the basic rule of sales is "the sooner, the smarter" and this rule really comes from my personal experience and that of my customers. The price you have to pay for shopping outside the store is that shopping here is a matter of success and a kind of "treasure hunt". We only have a lot of things in one unit, so there is not much time to think, and there is a rush at the stalls – but one appears with a dress, the woman next door wants the same and looks with the rim of her eye, maybe the first one will not buy the dress?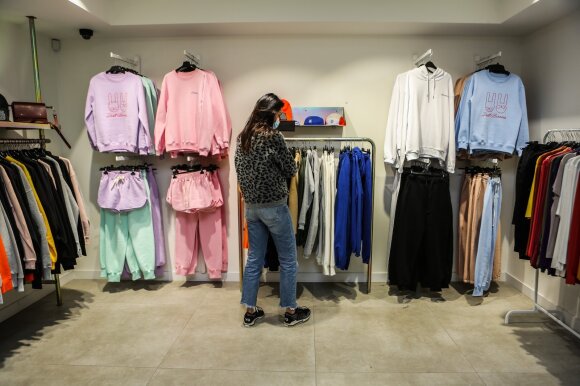 Outshop outlet
© DELFI / Modesta Bear
– Why did you decide to take part in such activities? What is your business philosophy?
– The concept of outlets is definitely not for everyone – it takes time, there is a big change of clothes, some customers come to us every few days to check the news and discover something new. Meanwhile, other women do not like such "treasure hunts" at all.
There's a women's team behind OutShop – we're looking for what we want. This activity was very personal and started with my own luxurious taste and financial capabilities that did not fit it. I went to London ten years ago to study fashion, and of course, surrounded by some of the best fashion in the world, I wanted to dress up with luxury fashion designers, but my student budget did not allow it. When I then worked with various fashion brands, I discovered that they all organize sales of their leftovers, where they can discover great pearls with great discounts. True, that sale – secret, they never take place in a designer boutique, and sometimes even know when and where they do not take place inside – it requires a special invitation.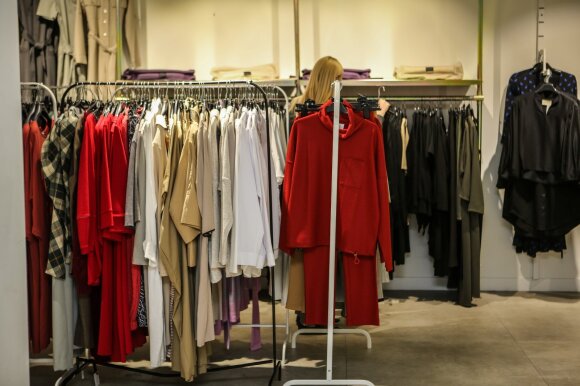 Outshop outlet
© DELFI / Modesta Bear
When I returned to Lithuania, I started organizing such sales in collaboration with local developers. For five years I organized seasonal sales, which was called "Big Sale of LT Designers". Rumors about her spread across Lithuania and people came after the sale, especially from other cities. This is what allowed us to grow – from small sales five days a year on a remote street near Lukiškės Square to a spacious store in one of the capital's main arteries – Vokiečių Street. This is already true: people will always want to dress nicely and not feel the moral grievances to which they have spent so much.
Our business missions are dual – one of them, like a store, of course – to keep customers with good deals. But the other thing that is very important is our moral obligations to our partners – Lithuanian designers, whom we help to realize the remnants of, earn money for new collections. If you want to dress up, I also see a lot of sense in not rushing to buy for new fast fashion collections, but check out what has already been made, what you can buy at a discount. Good quality, trend-resistant clothing and accessories, as long as they are maintained, will last a long time, and when worn, they give a completely different feel than a T-shirt made in China in three minutes.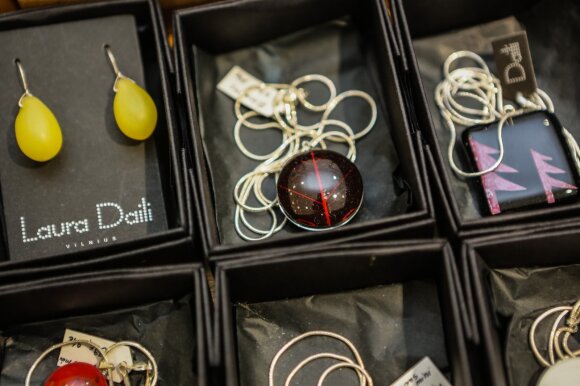 Outshop outlet
© DELFI / Modesta Bear
– Do you only sell in a physical store or online?
– The store operates both online and live in the center of Vilnius, and we will periodically open short-term stores in other cities – Kaunas, Palanga. We will be on the coast for the second time all summer.
People are obviously very interested to see online what pearls we can find there, but unfortunately the online store can not replace what can be found in the store live, because as I mentioned, we have very small shares, sometimes, goods are sold through hour redeemed. I would say that the sales visitors are fighting for themselves and so far those who come to Vokiečiie Street themselves are winning the search for new catches.
– What works of Lithuanian makers can be purchased from you? Are there any Lithuanian designers that you can not yet invite, but would like to?
– We currently have more than 70 different brands in the store, most of which are Lithuanian designers. There is no one we really want to invite, but still fail. In the five years that we have been organizing sales, we have worked with almost all Lithuanian designers, the supply in the store is constantly changing, depending on what you can offer with discounts at that time. We are also currently looking at world-renowned markets – we are constantly looking for something more interesting to offer people.
– Do you sell clothes for women only, or would men find something to choose from?
– With us you can find clothes and accessories for women, men, children, as well as beauty products from the most popular cosmetics manufacturers in the world. But mostly we have clothes for women.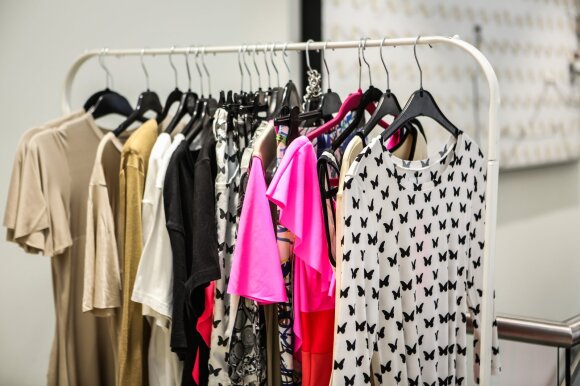 Outshop outlet
© DELFI / Modesta Bear
– What is the price range? What is the cheapest and most expensive garment with you at the moment?
– The range of prices, such as the range of discount percentages, is very different, as is the supply. Today we have clothes in the shop, the prices of which vary from 9 (T-shirt) to 595 (long wool coat) euros. The average discount amount that can be expected is about 50 percent, although we also have great classic men with a discount of up to 90 percent. Of course, such pearls are quickly discovered and redeemed by humans.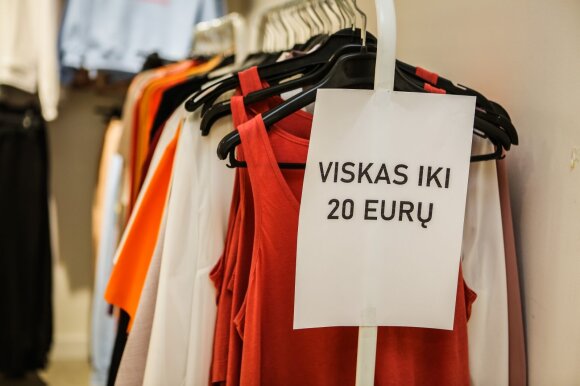 Outshop outlet
© DELFI / Modesta Bear
Clothing prices in the store depend on many factors: the production cost created by the designer, the novelty of the collection, the market strategy, the stock sizes … Of course, the latest collections will always have lower discounts, but maybe we are the only place where you can get that season news in general buy with discount. This is another reason why not all available goods are visible in the online store – according to the agreements with partners we can not advertise and publish some of the discounts, they are only available to customers who go to the store come.
– Do you have a lot of competition in your market, where clothes from Lithuanian manufacturers are sold?
– We do not think of competitors at all and we certainly do not consider other stores, which also sell Lithuanian designer clothes, as their competitors. If we were already counting competitors, we would be counting thousands of them in Lithuania, and millions in the world – absolutely all clothing stores would be our competitors. Nowadays, couriers can deliver worldwide customer orders. Our customers are loyal, but they are even more attracted than Lithuanian designers by the opportunity to dress them beautifully at affordable prices – which can be offered by many stores.
Our strategy is certainly not to compete – on the contrary, we invite other clothing stores to work with, because we can help each other.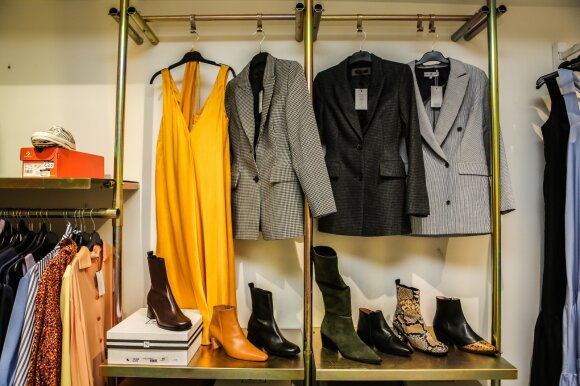 Outshop outlet
© DELFI / Modesta Bear
Many stores each season, and after this year's forced closure, have mainly collected balances that are frozen money for them and the space occupied by the store – we can help them sell these collections, introduce them to a new customer audience. In the meantime, we are constantly looking for news – we benefit from it too.
Instead of competing with colleagues working in the same trading sector, we think about how we can support each other. And we are looking for good examples not in the competition, but in the most famous stores in the world, because we also have the ambition to become the best store in Lithuania.
It is strictly forbidden to use the information published by DELFI on other websites, in the media or elsewhere, or to distribute our material in any form without permission, and if permission has been obtained, it is necessary to use DELFI as a source call.