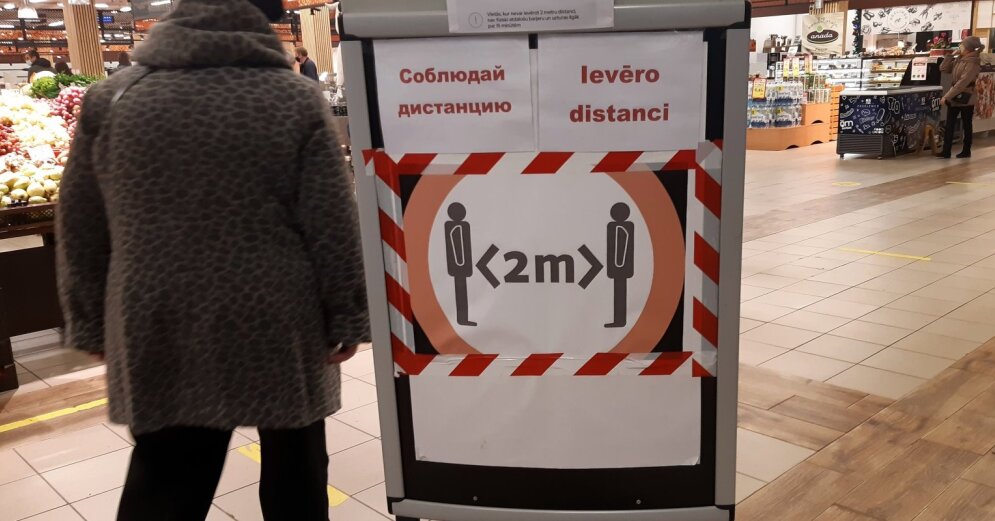 On April 1, the Cabinet of Ministers decided that from Wednesday, April 7, when the state of emergency in the country ends, certain restrictions imposed due to the spread of Covid-19 will be changed. The portal "Delphi" offers acquaintance with the current restrictions.
Content will move to the ad
Advertising
Private events and private gatherings are still prohibited, with the exception of events in two households for up to ten people abroad. If it is necessary to provide personal care or if the person lives alone in the household, visits are allowed, but not more than within two households.
At funerals and baptismal ceremonies, no more than 10 people may gather at a time in emergencies (excluding persons directly involved in the funeral or baptism), but no more than two households are required, and mouth and nose coverings are required during the meeting.
Meetings of minors and parents are also allowed if the children and parents are not members of the same household, unless the child, a parent or a member of the parent household, must meet requirements for isolation, quarantine or self-isolation.
From April 7, parades and pickets are also allowed for a maximum of 10 people.
Trade
As before, sales points and market pavilions must pass at least 25 square meters per visitor and a one-way stream must be organized. Where carts, baskets or shopping bags are available, with the number of people not exceeding the number of people allowed in the store and access to the store without it being prohibited.
The point of sale can be visited one by one, except for children under 12 and people who need the help of an assistant. At points of sale, both inside and outside, staff and visitors must wear a mouth and nose mask.
Subject to epidemiological safety requirements, on-site sales will no longer be restricted by April 7 goods lists. Therefore, only retail and hygiene stores, pharmacies, opticians, florists, bookstores and press shops can operate in shopping malls with an area of ​​more than 7,000 square meters.
As a result, with effect from 7 April, those stores with an assortment of product groups included in the product lists may no longer be open for on-site sales in shopping centers. In turn, service providers in shopping centers will be able to continue to operate as before.
From April 7, however, regardless of the range of goods and retail space, all stores that have a separate entrance and not in a shopping center with a sales area of ​​more than 7,000 square meters can open their doors to customers. All outlets can operate in smaller shopping malls. Of course, both traders and buyers must comply with safety requirements.
Also from April 7, the organization of street trading without entertainment events, such as theme parties and attractions, is allowed. Up to 20 traders can take part in such fairs and the organizer must ensure a distance of at least two meters between the stands, the stream of visitors and the demarcation of the territory.
It will also no longer be possible to withdraw pre-ordered purchases at points of sale.
Education
From April 7, kindergartens will be open, with weekly tests of staff on site at the educational institution and ensure that staff at the educational institution meet epidemiological requirements for safety and use mouth and nose covers during and outside the learning process.
Acquisitions of the practical part of the vocational education program and the higher education program, which are necessary for the acquisition of professional skills or qualifications in the first half of 2021, will take place in a group of no more than five students from one group (course ).
In epidemiologically safe conditions, individual consultations are held for pupils who are exposed to the risk of early school leaving in primary and secondary education, general education programs for 12th grade students and vocational education programs for students of groups or courses that plans to have exams in the first half of 2021. get jobs and appropriate vocational training.
It is determined that from April 7, the personal learning process is and 12, as in rotation 7 to 9. and 10-11. the class can be implemented by providing epidemiological safety requirements and weekly tests of on-site staff at the educational institution if the cumulative number of Covid-19 cases per 100,000 inhabitants in the administrative area of ​​the city or province where the educational institution is located no more than 200 on Tuesday of the current calendar week; epidemiological conditions indicate a safer situation in the administrative area.
In some cases, subject to epidemiological conditions that spread the risk of Covid-19 reducing on-site training and 12, as in rotations 7 to 9. and 10-11. A class can also be organized if the cumulative number of 14 days of Covid-19 cases per 100,000 inhabitants exceeds 200, but not more than 220 when deciding on the repetition of full-time training in a particular administrative area and 250 at the decisions on continuing full-time training in that administrative area.
The assessment of the situation is based on several epidemiological criteria, including the geographical distribution of newly discovered Covid-19 cases, their connection with specific institutions, companies, households, activities, etc., while assessing their potential impact on the organization of the training process.
The decision of the Cabinet of Ministers of 1 April also stipulates that the personal learning process in the 12th grade in regions and cities where the face-to-face learning process is not implemented in accordance with the so-called regional principle can be implemented by ensure that the face-to-face training process is in those subjects in which centralized examinations are taken, and also tests of students and staff are done in an educational institution.
To reduce the psycho-emotional load of students, the amendments provide for the possibility for primary and secondary school students to learn part of the formal education program in person, outside, in accordance with epidemiological requirements for safety and for the group of students participating in the training program, no more than 10 students.
Acquisitions of interest and vocational education programs can be provided remotely, along with an exception – vocational education, interest education, as well as lessons from artistic groups can be introduced in person outside in groups of no more than 10 persons.
Acquisitions of the vocational education program and the practical part of the higher education program, which are required for the acquisition of professional skills or qualifications in the first half of 2021, can be taken personally in a group of up to five students.
Full training will also be continued in special education institutions and in such special education classes of educational institutions where a special basic education program for students with severe mental disabilities is implemented as various serious developmental disabilities, such as a special basic education program for students with mental disabilities by conducting weekly tests of full-time employees. The social correction institution "Naukšēni" also continues its full-time work, observes strict precautionary measures and conducts weekly tests of full-time staff in the educational institution.
Practical training for on-site tractors will also be possible, as well as practical driving training to obtain a driving license for categories AM, A1, A2 and A, and a final test.
Cultures
In the field of culture, with effect from 7 April, after a long hiatus, it will be possible to take part in the rehearsals of amateur art groups – no more than 10 people abroad at a time.
Acquisition of the practical part of the vocational education program at the Riga Ballet School of the Competition Center Vocational Education "National Art High School" is also allowed in person, if one person is provided with at least 35 square meters of the teaching area, lessons no longer need then cover mouth and nose for 90 minutes and keep a distance of two meters.
Cultural venues and exhibition venues are still closed, with the exception of the distribution of books in libraries and open-air museums, but the period during which professional art rehearsals can take place in cultural venues has been extended from 6 a.m. to 10 p.m.
Sport
In the field of sport, the safety measures introduced during the need for the regulation of sporting events and sports training (lessons) are continued, at the same time as the abolition of the need, the wording of certain restrictions is made editorially clear to ensure their uniform application.
Enforcing the emergency ban and canceling all live sporting events (including sporting events, demonstrations, performances) for a specified period of time clarifies the categories of sporting events which, in accordance with the International Sports Federation (for international sporting events) ) and the Sports Act, however, the security measures established by the recognized sports federations (for sports competitions at national level) may take place.
If during the emergency only sports matches are included in the sports calendar of the International Olympic Sports Federations (including official training for the competition) for athletes of national team from 15 years, if they take place without spectators, then from April 7, under the same security measures, the highest level sports competitions also in non-Olympic sports.
Catering
The Cabinet of Ministers also approved the safety requirements that both caterers and visitors must meet in the field of public hospitality if the epidemiological situation in the country is safe enough to start in the outdoor play areas.
Until then, however, the catering companies will continue to operate, providing food and drink to take away.