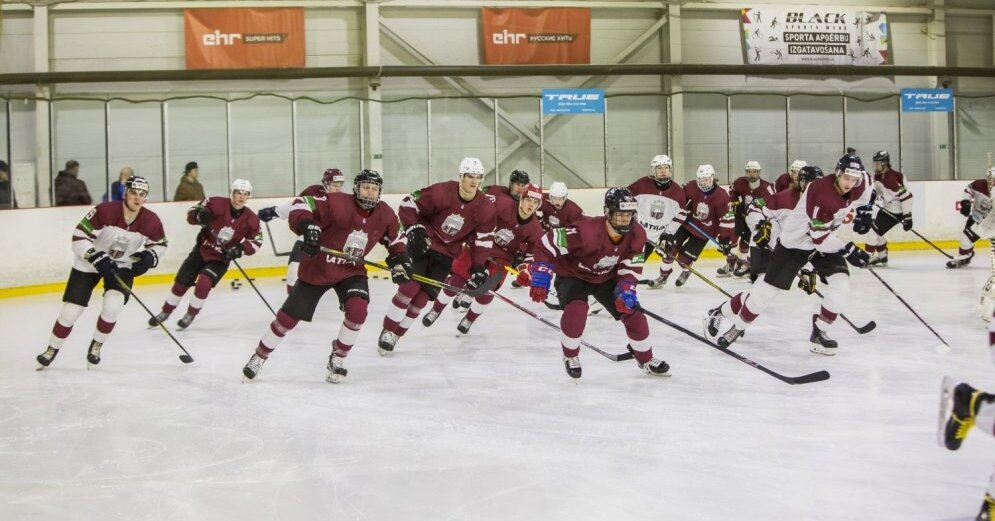 [ad_1]
Latvia's top 20-team coach Kārlis Zirnis has made 32 nominations known for the World Championship in group A of the first division, from December 9 to 15, in Fisen, Germany, informs the Latvian Ice Hockey Federation (LHF).
Latvian U-20 team coaches have three goalkeepers, 10 defenders and 19 forwards on the list.
The largest representation in & # 39; rows of & # 39; The candidates are from Russian Youth Ice Hockey League (MHL) – 15 hockey fans. Peak also attracted seven North Americans and three hockey players in Switzerland, but one of Germany and Sweden.
The Latvian U-20 team will launch a training camp on Friday, November 30 in preparation for the World Championship and will not be fully in its first lesson.
The ice-horse horse-truck "Volvo Ice Hall" will take place until Wednesday of next week. On Wednesday, December 5th, the team goes out for the World Championship.
Prior to the World Championship, on December 6, the team was tested with Austrian peers. This match will take place in the Austrian city of Telfs. After this battle, Karl Zirn will announce the final selection of players for the World Championship.
Karl Zirn will also be co-sponsored by an American specialist, Frenciss Anzalone, this season. Assistant duties are executed by Raimonds Vilkoits, which runs every day in MHL unit HK "Rīga". Meanwhile, Eric Visocki is responsible for the physical fitness of U-20, as usual.
In preparation for the World Championship, the Latvian U-20 team participated in the international window of # 39; November break in the tournament in Denmark, where it won the first place.
Latvian U-20 National Team Candidates for the first division A group in the World Championship:
Goalkeepers:
Niklāvs Rauza (HK Riga, MHL), Jānis Voris (North Cyclones, USA), Artūrs Šilovs (HK Riga, MHL);
Guards:
Sandis Smons (Geneva-Servette U20, Switzerland), Renārs Kārkls (HK Riga, MHL), Patrick Ozols (HK Lido), Arvils Bergmanis, Nikita Mateiko (both HKRiga, MHL), Nick Kroll (New Hampshire Monarch USA) Regnard Udris (HC Islanders, USA), Ernest Ošenieks, Miks Tumānovs (both HS Riga), Harry Brants (HK Riga, MHL);
Attackers:
Denis Smirnov, Emil Dzhegerer, Daniel Berzins (both Dinamo Riga, KHL), Rihards Melnalksnis, Denis Fjodorov, Rudolf Polch, Renard Ciprus (all – HK Riga, MHL), Arthum Lapy (Springfield Jr. Blues, USA), Daina Larionov ("Boston Jr. Rangers", United States), Raivis Ansons (HS Riga), Jānis Vīsbelis ("Connecticut Jr. Rangers", United States ), Patrick Marckinkiewicz ("Kolner EC U20", Germany), Gustav Miller, Ralph Vjater, Richard Greenberger Robert Priževoits (all – HK Riga, MHL),
Viktors Jašunovs (AIK J20, Sweden), Arthum Koppass (Boston Bandits, USA), Janis Švenenbergs (HK Riga).
[ad_2]
Source link