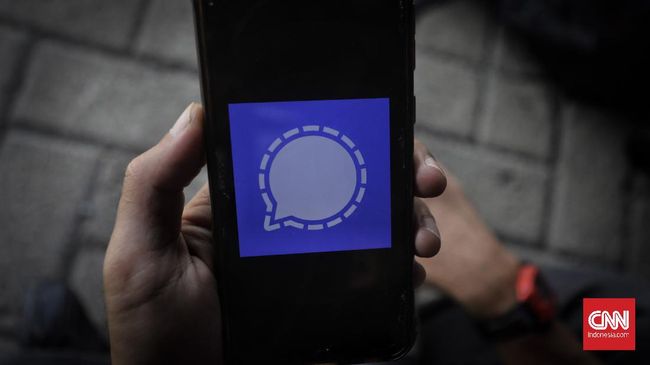 Jakarta, CNN Indonesia –
Number of users of messaging apps Signal increased significantly in recent days. This also places Signal as the free application for number 1 Google Play Store and the Apple App Store.
Signal had about 7.5 million installations worldwide from the App Store and Google Play in just a short period of time, from January 7-10, 202. That is more than the 43 installations it received in the previous week, according to Sensor Tower .
Citing CNN, encrypted messaging services like Signal have become popular in recent years. There are several factors that make Signal increasingly popular and installed.
First, the popularity of Signal is being influenced by people who are increasingly concerned about protecting their personal information. Then confusion about the new privacy policy of Facebook's encrypted messaging service, namely WhatsApp, further increases Signal's use.
Signal has also received support from various figures, including Tesla CEO Elon Musk. It is known via Twitter that Musk has tweeted 'Use Signal'.
Furthermore, the storm in new Signal downloads also comes along with the riots in Washington DC and the move by Amazon, Apple and Google to cut ties with Parler, the social networking service favored by members of the court.
Like Signal, another encrypted messaging app Telegram claims to have attracted 25 million new users from around the world in 72 hours, bringing the total active user base to 500 million.
A large peak in Signal Traffic has probably caused some disruption. For example, a verification code for new user registration is pending.
Of all these factors, the impact of WhatsApp's new privacy policy is perhaps the biggest contribution to Signal installation. Many WhatsApp users are disappointed with user data that can be shared with Facebook which has a reputation for problems when it comes to user data protection.
All private messages between individuals and most businesses on WhatsApp are still protected by end-to-end encryption, which means the app cannot view or share them with Facebook (users are notified before chatting with companies whose messages are not encrypted).
But WhatsApp collects other user information, such as knowing how and when someone uses the app, and information about user devices such as IP address.
According to WhatsApp, this practice of data sharing is not new. In 2016, the company briefly offered users the ability to sign up for data sharing with Facebook.
Although this policy is not new, it may encourage users to switch to Signal. Signal is another free application that provides encrypted messages, calls and video calls.
Encrypting means that the content of the message is scrambled until it reaches the recipient and no intermediary can see it. The app is managed by the non-profit Signal Foundation, which was launched in 2018 with the help of WhatsApp co-founder Brian Acton, who left WhatsApp and Facebook in 2017.
With the launch of the New York Times, chain messages that falsely claim that Facebook can read WhatsApp messages have also affected Signal's popularity with Telegram. In essence, however, WhatsApp will share some user data with Facebook.
Carl Woog, a WhatsApp spokesman, said user privacy settings have not changed and rumors about what data will be shared are largely unavoidable.
"What does not change is that private messages to friends and family, including group chats, are protected by end-to-end encryption so we can not see them," he said.
Fears over WhatsApp's privacy policy have fueled the popularity of Telegram and Signal. While there are no major changes in the way WhatsApp handles user data, people have interpreted the app's privacy statement that all types of personal information can be owned by WhatsApp and shared with Facebook.
(jps / mik)


[Gambas:Video CNN]