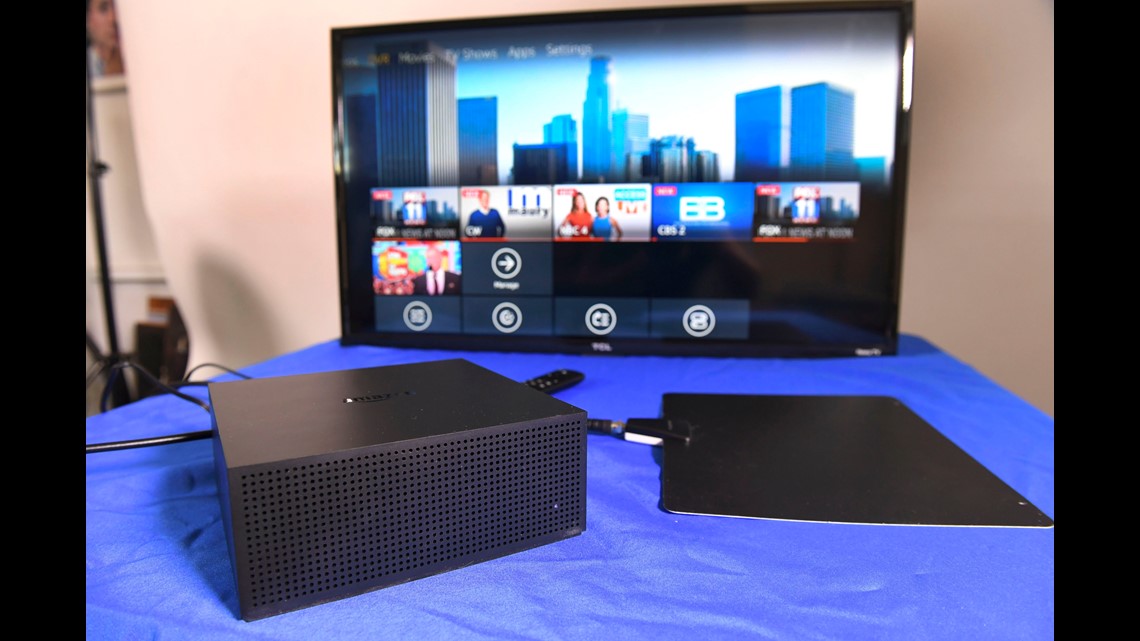 [ad_1]
DVR was always a tool for recording TV programs and watching them on TV. Amazon changes it.
The FireTV Recast DVR on November 14th will rethink what you think of the DVR. Yes, you can record on a TV, but only when connected to an antenna. Readers warning: cable and satellite customers will no longer use Recast. Code cutter only.
Once connected, Recast acts as a TV hub that receives the signal and redistributes it with the recorded program to multiple TV sets, cell phones and tablets.
Recast is the lowest priced full service DVR available from $ 229 to the present, highlighted by one magical consumer advantage, not monthly costs. Most cable services charge a DVR monthly fee of about $ 30, while a competitor, TiVo, can use a DVR for a monthly fee of $ 6.99 to $ 15 per month.
Amazon makes your code more attractive with the new Amazon Fire TV Recast. It is a DVR for over-the-air TV.
Robert Hanashiro, USAT
So what is it?
Recast works only with Amazon products. There's a Fire TV Edition on your TV set starting at about $ 229. Many retailers offer a little over $ 100 in Black Friday deals. You can also use the Amazon Fire TV Stick ($ 30- $ 50) streaming device on Echo Show, a $ 229 speaking speaker that brings video to Alexa or on a TV with an HDMI port. You will also need to add an antenna at a cost of $ 30 or more.
Besides having the tools to record local news and sports and broadcast programs (most of them easily accessible through apps), Recast has built-in Alexa, so "Alexa, record" … Adjusted NBC. "
Again, Recast is the box that took over the TV set, not the DVR. Use to view progress, switch to a specific station, view channel guides, and record and monitor recorded programs. (The second reader Note: During setup, the antenna is connected to the non-TV mode.)
If you use a Fire Stick on multiple TVs in your home, the DVR tab that appears on the Amazon TV menu allows you to view programs recorded in Recast as live TV, regardless of their physical location.
For a cord cutter, there are few other devices that can record and play TV shows. There is a new TiVo. Bolt Ota (OTA) is sold for $ 6.99 each month for $ 249.99, and the Tablet with several models is sold at $ 139 to $ 199. However, add $ 75 to $ 100 as you will need to connect to your hard drive. Like Recast, Table and Bolt are only connected to antennas, not cables or satellite boxes.
So what about Recast?
First, Amazon's props that made us think about how we watch TV.
In other words, it may take some time to set it up (remember antenna on unit instead of TV). It's another experience you can get used to.
Once it is up and running, it will record and find the show, not as smooth as a cable DVR. It's more fun to visually zip through my ads than to rebuild my eyes. Once again, we pay more than $ 400 a year for cable company DVR rental costs. I like to pay once without a monthly fee.
One more thing to watch out for: If you can do a lot of programming in streaming, movies, original TV shows, and if you're offering the best broadcast TV on YouTube (in clip form), I doubt there is something that many people really need. Do not record anything.
By the way, I am not a fan of "bachelor". So what do I know?
Another note: Because Amazon and Google are not doing well, the official YouTube app is not included in the Amazon product. But Amazon has a workaround that allows you to pick up YouTube via a browser.
agree: Low price, unique twist when watching TV, no monthly fee. It starts at $ 229 with the ability to record up to four programs at once in a 500 GB hard drive, or $ 279 for a 1 TB hard drive.
criminal: It only works with Amazon products, so if you get Amazon Prime Video via Roku streaming stick, you need Amazon brand. We are also missing out on YouTube TV, which is not working on rebroadcast cable. It is not as visually appealing and precise as a video DVR.
Readers: Are you sure you want to discard the cable DVR for devices that only operate with an antenna? Let's talk about Twitter. @jeffersongraham.
Copyright 2017 USATODAY.com
(function() { var modules = [ 'error', 'page', 'grid', 'desktop-header', 'toolbar', 'weather-summary', 'navigation', 'video', 'throbber', 'utils', 'fitted-headline', 'forecast', 'article', 'continuous-scroll', 'sharing', 'gallery', 'radar-gallery', 'forecast', 'article-crosspromo', 'featured-videos', 'chapter-slider', 'pollen', 'olympics-live-stream', 'three-day-outlook', 'current-weather', 'search-results', 'tracking', 'chapter-progress', 'progress', 'countdown-clock', 'longform-explore', 'media-gallery', 'social-sharing', 'weather-alerts', 'weather-interactive-radar', 'closings', 'tealium', 'alert-bar', 'cookie', 'sticky-sharing', 'live-indicator', 'sharethrough', 'taboola', 'elections', 'just-for-you', 'just-for-you-li', 'olympics-tv-listings', 'headline-list-with-abstract', 'text-only-headline-list', 'story-snapshot-with-abstract', 'snapshot', 'story-snapshot', 'special-content-headline-list', 'notfound', 'linked-image', 'article-recirculation', 'linked-image-with-title', 'newsletter-signup', 'linked-image-with-title', 'newsletter-signup-multiple', 'live-videos', 'breaking-news', 'weather-alerts', 'closings', 'media-gallery-alt', 'alert-center-menu', 'trending-list', 'toc', 'featured-radars', 'searchbox', 'hot-races', 'recirculation', 'photo' ]; require.config({ 'baseUrl': '/', 'deps': modules, 'waitSeconds': 30, 'bundles': { 'modules': modules }, 'paths': { 'jquery': 'scripts/jquery-3.1.1.min', 'jwplayer': 'content/player/jwplayer.js?version=2.28.0', 'modules': 'Views/dist/scripts/modules.min.js?version=2.28.0', 'facebook': 'https://connect.facebook.net/en_US/all', 'twitter': 'https://platform.twitter.com/widgets', 'slick': 'content/libs/slick/slick.min', 'dotdotdot': 'content/libs/dotdotdot/jquery.dotdotdot.min', 'jqueryui': 'Views/lib/jquery-ui/jquery-ui.min', 'comscore': 'content/libs/comscore/comscore.min', 'stickyfill': 'content/libs/stickyfill/stickyfill.min' }, 'shim': { 'facebook': { 'exports': 'FB' }, 'twitter': { 'exports': 'twttr' }, 'jwplayer': ['jquery'], 'jqueryui': { 'deps': ['jquery'] }, 'slick': ['jquery'], 'dotdotdot': ['jquery'] } }); })(); [ad_2]
Source link