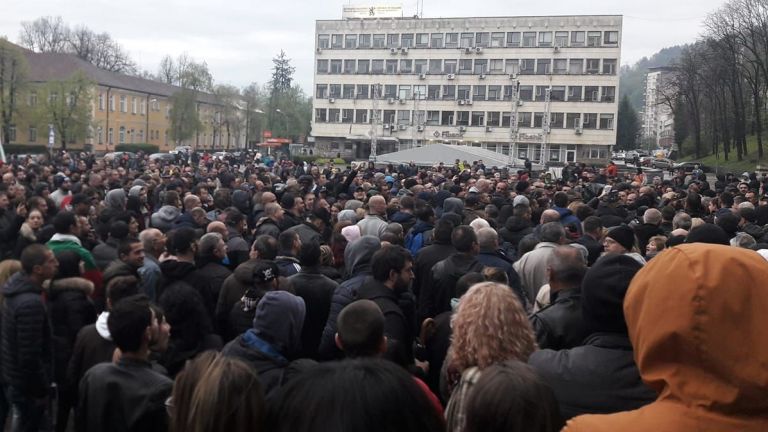 For one night, Protestants gathered in the square in Gabrovo, but today their number was much smaller than the previous days, BNT reported.
People went in & # 39; e & # 39; a municipality for a meeting with the mayor of the municipality of Tanya Hristova. There were nine requests for her, including a review of TEMC decisions. Christo received the symbolic requirements and asked for a meeting with Prime Minister Boyko Borissov's prime minister and the responsible institutions to solve the problems.
In Gabrovo there was a problem with the cleanliness of the city, not the Roma in & # 39; a municipal company work. One third of Cleanliness's employees are of Roma origin. She has cleaned one machine in the past few days because she's not a Roma origin. Such a thing is only the center of & # 39; city.
"We have reduced the number of teams we need to keep in Gabrovo. Many of the Roma are not in & # 39; e city. I do not know if anyone is upbeat to come back from those who lie Gabrovo. Mostly people of Roma origin have been hired into one municipal business, "Blagoveshtenie", which is not handled in & # 39; e clean and rural"the mayor explained.
Apart from the center, the municipal collection is above surface. The least is the situation around the market in Gabrovo. Since the protests have started in & # 39; & # 39; the streets, people can not be seen from Roma origin.
Tomorrow it will be clear how many of the Roma children do not go to kindergarten or school. Tanya Hristova shared some of the "provocations" that all appeared to be politics. They pointed out that such provocations are dangerous.
The Chief Secretary of the Ministry of the Interior Ivaylo Ivanov thanks the residents of Gabrovo not to provoke provocation.
"They have to see that they can protest in a normal way, despite attempting several factions to provoke it, with the common efforts of" "and their colleague & # 39; s & # 39; , there have been a few days, we can keep the public order. There is no size, and I hope that they will hear messages and every possible institution will do what it takes to get a normal life, "Ivanov said. .
Police and gendarmerie remain in the city as necessary, the head of & # 39; a gendarmerie said.