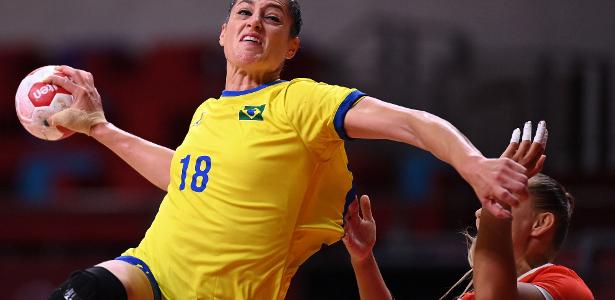 The Brazilian women's handball team achieved its first victory at the Olympic Games in Tokyo. The team, which came out of a draw with the Russian Olympic Committee, defeated the Hungarian national team by 33 to 27 in a game that ended in the first minutes of this Tuesday (27).
With this result, Brazil takes the lead of Group B for a while, but this was the first match of the round. The next appointment of the team at the Games is scheduled for as 7:30 a.m. (GMT) on Wednesday (28), against Spain.
The game started with a seven-meter lead for Hungary with less than a minute on the clock. The Hungarians only remained on the scoreboard until the 10th minute, when Duda Amorim scored 5-4 for Brazil.
The selection succeeded this advantage largely due to the efficiency of the Brazilian attack, which was 59% around the 20th minute of the first half.
Samara led the attack in the Brazilian in the last third of the first stage with three straight goals, leaving the score 13-9 for Brazil. The selection went on to win the rest with 17 to 11, with an emphasis on Ana Paula, who scored four goals and recorded 100% success.
The advantage remained at home from six goals, even when Matieli and Giulia were penalized almost consecutively with two minutes. Brazil slowed down the game and kept the quality of the marking through, without problems going through the penalties.
The advantage that was already good got even better in the last piece of the game. In the last five minutes, Brazil had nine goals more than the Hungarians and finished the match with 33 goals in total. Samara and Ana Paula were the top scorers of the game, with seven goals each.
Source link